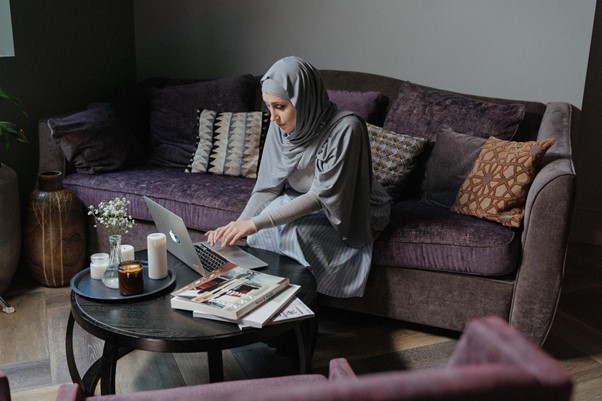 Photo credit: Pexels.com
If you've decided to run your business from your house, you've made a smart decision. As The Corporate Finance Institute reveals, a home-based business can save money on overhead costs and give you greater flexibility. When you start your business, you might be able to comfortably work at your dining room table or on the living room couch. However, as your company grows, your workspace needs to grow, as well.
Moving to a larger house can give you the space you need to expand. Professionals like Rich Blessing Homes can help you skilfully navigate the Ashburn real estate market. This is just one option when it comes to creating your ideal office. The below guide outlines all of the possibilities, including buying, remodelling, and redesigning.
Buy a new house with enough space for your personal and professional lives.
If your current house is small and you want to upgrade, buying a new property may be your best bet. Before you start looking, scope out houses in your target area to get a sense of the prices. Keep in mind that you'll need to make a down payment to secure a mortgage. Bank Rate explains that down payments can range from as low as 3 percent to as much as 20 percent of the total home value.
If you're stressing about costs, there are non-traditional alternatives. You might consider buying a house "as is," for example. Keep in mind that "as is" are bought in their exact condition, meaning you can't ask the owner to make repairs. While this saves you money, it can be risky if you end up with a property with problems like a leaky roof or pests, though you still may use a contingency on the home inspection which leaves you an out if repairs are significant. Schedule a home inspection and consult with me if you go this route.
Renovate the home you own now to accommodate your burgeoning business.
If you aren't ready to move to a brand-new house, you can renovate your existing property to make more room for business growth. For example, if you have an unused room next to your current office, you might take down the dividing wall to create a bigger space. As an alternative, Let's Renovate recommends taking your unused basement or attic and converting it into a usable office space.
You may be able to write off some of your home office renovations as tax deductions. This will be easier if you establish your company as a formal legal entity, like a Limited Liability Company (LLC). An LLC also offers other advantages, such as protecting your assets in case of business-related legal issues. You can form your entity and avoid hefty attorney's fees using an online business formation service; visit this site for more information.
Redesign your current home office to maximize existing space.
Finally, if neither of the above options appeals to you, consider taking a small step. Simply redesigning your existing office space can be a positive change. Investing in space-saving office furniture, such as a foldable desk and chair, is one smart move. Also, look for movable pieces, like rolling filing cabinets, which you can shift to save space as needed.
While you're at it, upgrade your office design with productivity in mind. According to We Work, more natural light can foster focus. Meanwhile, the CBC reports that having plants in your office can minimize stress. Last but not least, add some personal touches to your office, like photos of family or friends. According to the U.S. Chamber of Commerce, giving your workspace a homey feeling can actually boost your well-being and your productivity at work.
If your business is growing, your workspace should grow with it. Don't deny yourself the room you need to see your company thrive. Whether you buy a new place, remodel your home, or simply redesign your office, the investment of money and time will be worth it.
Rich Blessing Homes can help you find the perfect Ashburn house to suit your growing home-based business. Get in touch today by calling 703-470-8002.